Objective
Raise funds annually for breast cancer prevention and research with an emphasis on local university research programs, and efforts providing medical screening/testing to local upstate residents. The Swinney extended family has experienced first-hand the battle with breast cancer. The Foundation will work hand in hand to make the fight easier for the next family.
Funding
Funds will be raised annually from the Dabo Swinney Ladies Clinic, the partnership with Clemson University and sponsors Coca Cola, Oobe™, and Bon Secours Saint Francis Hospital System on a designated Breast Cancer Awareness Game each October during football season. This year's Game is Homecoming, October 15th versus N.C. State.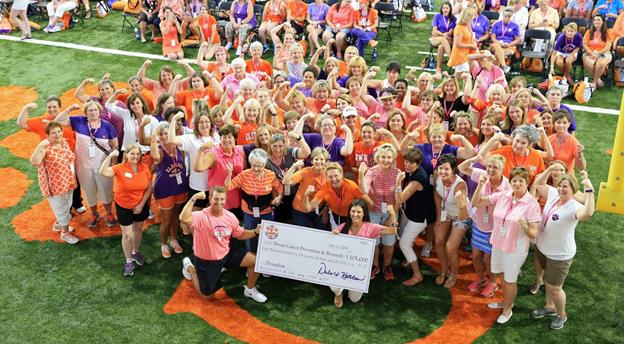 The 2017 Dabo Swinney Ladies Clinic will be held on Saturday, July 22nd. The objective of the clinic will be to educate women on the strategy, rules, training, etc. of college football, promote the Clemson University Football program, and promote and educate attendees on early breast cancer screening, detection, and prevention. Funds will be raised through participation fee, donation, silent auction, and donated services and goods.
Since 2009, over $330,000 has been raised and donated/pledged to breast cancer prevention and research.