On July 23rd Dabo's All in Team Foundation joined with Bon Secours St.Francis Health System and OOBE to host the eighth annual Dabo Swinney Ladies Clinic.

A record $105,000 was raised after expenses.

The funds will go to support Breast Cancer Prevention and Research efforts in the Upstate supporting St. Francis's mobile mammography program and Clemson University Bio-Engineering research work.

Since the Foundation's inception in 2009, it will have distributed over $2.25 Million to its focus areas and grant programs by the end of 2016.

Coach Swinney, "This is one of Kath's and I favorite days of the year. Our family, along with many others has been impacted by breast cancer. We are working together to find a cure. Our volunteers, staff, and their families work very hard to make the Ladies Clinic a success."

The 2017 Ladies Clinic will be held July 22nd. Registration will open November 1st.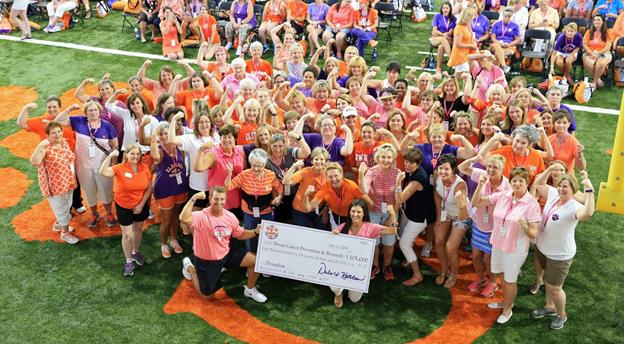 Coach Swinney and Kathleen with Breast Cancer Survivors